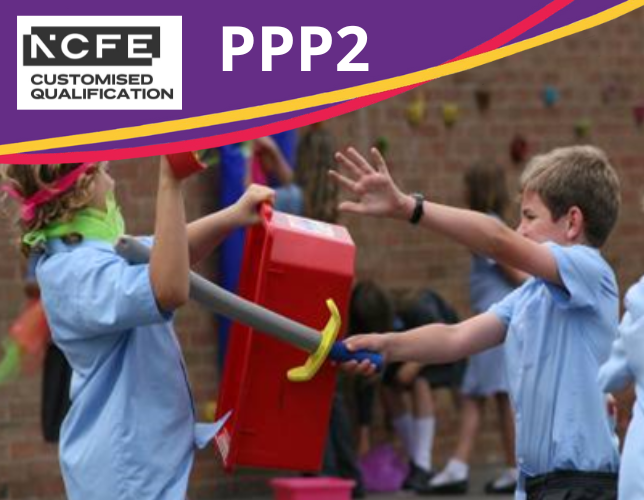 Date
Nov 07 2023
- Dec 12 2023
Ongoing...
Time
UK time
9:30 am - 11:30 am
Cost
£270.00
PPP2 PARS Playwork for Schools
PARS Playwork for Schools PPP2 Customised Qualification accredited by NCFE 
The aim of this Level 2 qualification is to enable lunchtime supervisors to begin to use the PARS model to describe and develop their playwork practice.
The dates for this online course are: November 7th 14th 21st & 28th and December 5th & 12th. Each session will run from 9:30 – 11:30am UK time.
This Level 2 course is assessed by our team of qualified PARS playwork assessors through workbooks which are completed throughout the course.
The cost is £270 per person, which includes all teaching, assessment, learning resources and certification from NCFE.
Our unregulated qualification has been developed to meet the specific needs of our learners and has been accredited by NCFE demonstrating the quality and rigor. NCFE is an awarding organisation recognised by the qualification regulators for England (Ofqual), Wales (Qualifications Wales) and Northern Ireland (CCEA Regulation).
On completion of the Customised Qualification, learners will receive a certificate of achievement. The certificate is evidence of the knowledge and skills gained by completing the qualification. This qualification has been accredited by NCFE under the Customised Qualification and the certificate of achievement will be issued directly by NCFE.
Please contact us if you would like more information about booking an in-house (online or face-to-face) PARS Playwork for Schools PPP2 programme for your school.
For more background on how our successful Playtime! project has supported schools around the UK, please take a look at our YouTube channel Playtime! – YouTube  and 'The Lost Adventures of Childhood', which was shown in the UK on Teacher's TV and a variety of international networks Lost Adventures of Childhood – YouTube
Click here to view the PPP2 brochure
More information is also available here: https://commonthreads.org.uk/index.php/01-pars-customised-qualifications-a-brand-new-playwork-adventure/
Booking for this course closes on the 26th Oct'23.
The trainer for this course is Shelly Newstead.